An introduction to stacking rings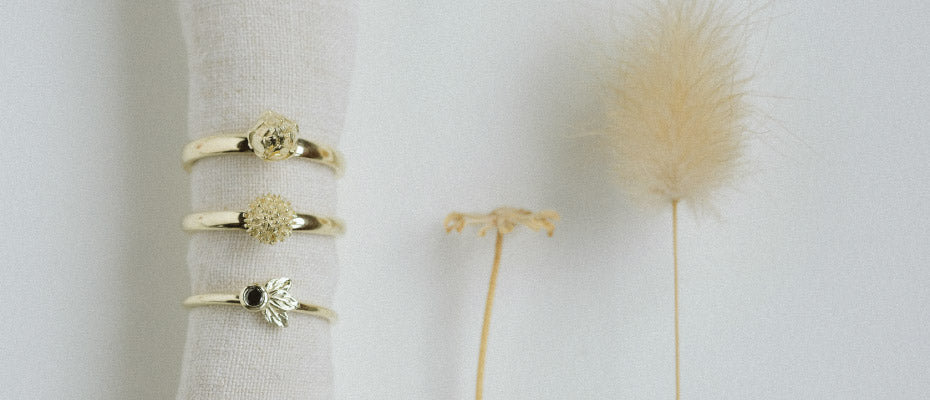 A good quality stacking ring set is one of the most versatile items you can add to your jewellery collection. With as little as two or three rings you can create multiple looks and styles. You can also add to your stacking set over time which keeps it exciting and lessens the initial cost.

Here's a few of my tips when creating your own stacking set:

1. Always choose solid metals when purchasing rings. While we offer some of our earrings and pendants in a plated version, rings take on too much wear for plating to be long-lasting and effective, and you'll want your stack set to be hassle free for every day wear.

2. Don't be afraid to mix metals! Want to pair rose and yellow gold together? Go for it! Your stacking set should represent your style and it is most interesting when you make it uniquely yours.

3. Mix textures, widths and styles. Think one thicker and one thinner. One a bit more plain and another with a leaf design or a stone. This will make your set stand out! All our Botanica stack rings have been designed to be worn together but remember to check this if you aren't purchasing your whole stack from our range.

4. Ensure you are purchasing quality pieces. If you are purchasing online make sure that the widths and thicknesses are listed online. Some stack rings can be too thin and that means they may not last with regular wear. You want your set to be an investment piece you can wear for many years to come. If you aren't sure, you should always feel comfortable reaching out and chatting to the goldsmith responsible for making your rings (In this case that's me, Claire.)

5. Finally, have fun with it! There is something very special about deciding which rings you're going to include in your personal stack.

Below I've added some of my favourite Botanica options but they aren't the only options available, so have a little browse for your personal favourites and as always, if you have any questions, please don't hesitate to reach out.
Sterling Silver Leaf Band
An iconic Botanica design and a very versatile piece. Beautiful worn on its own and striking as part of a stacking set.
Yellow Gold Leaf Band
The Yellow Gold Leaf Band, just as striking as the silver and ready to be paired with other rings or worn alone.
Classic Yellow Gold Ring
A staple for a stack set, the classic round wire ring. Available in two different thicknesses for you to add different widths to your set.
Sterling Silver Black Diamond Ring Set
Starting from only R950 for the individual stack rings or R2550 for the whole set, you can create a versatile stacking set with these sterling silver and black diamond rings.
Yellow Gold Three Leaf Ring With Green Tourmaline
Add a pop of colour by choosing a stack ring with a colour gemstone like this Green Tourmaline and Three Leaf ring.
Rose Gold Black Diamond Ring
Add the soft touch of Rose Gold and a classic black diamond to any stacking.
Yellow Gold, Rose Gold and Sterling Stacking Set With Black Diamonds
Our tri‑metal black diamond set is put together for you and arrives as a beautiful stacking set ready to be worn.
Yellow Gold Stack Ring Set With Black Diamonds
The Yellow Gold Leaf stacking set combines a the textures of the leaves with the simplicity of the round wire band. A unique stacking set designed to worn in multiple different ways. A perfect set from the day it is delivered.